If you haven't heard, foursquare announced yesterday the launch of what they're calling "Local Updates".
What are these and how can you use them?
Essentially, Local Updates will allow businesses to push messages to consumers who have either "liked" their business or frequent it. Updates can include things like specials, pictures of a new car (or a used car you just got in stock), it can include coupons, service specials, or whatever else you'd like your customers to see.
Your customers will be able to see these updates while in the same city as you. While certainly not as geo-targeted as it could be (like in the auto mall or within 10 miles of your dealership), being in the same city is a start.
In the past, the only way (or type) of message you could put out there for consumers on foursquare were "special offers" which required a check-in. While you can still make an offer to a customer, the ability to simply provide updates to consumers is another way of engaging them and staying top of mind.
Here's an example of what an update would look like: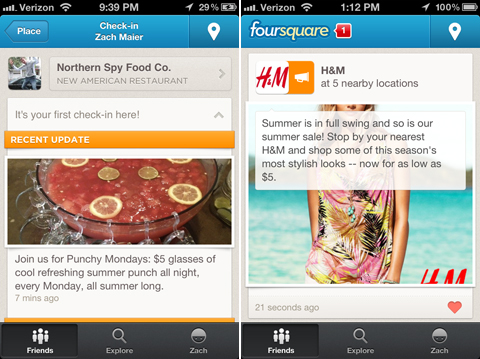 With nearly 1,000,000 business pages claimed and 10,000,000 users, foursquare is simply something you cannot afford to ignore. It's fairly low-maintenance when set up and, since its free, the benefits vastly outweigh the possibility of lost business. Engaging your customers (or potential customers) is something that's not only necessary but integral to increasing customer loyalty and retention.
The Local Updates feature will be rolled out to businesses that have claimed their page this week sometime so stay tuned.
Here is a brief video intro created by foursquare: