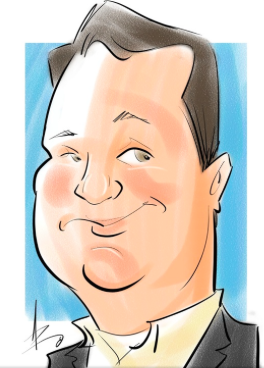 I'm not a social media guru, expert or anything resembling that. I would hate to have those adjectives attached to my name. Social media is all about engaging your audience and the reason that I believe I am successful at it is that, regardless of whether I am "doing" social media for myself or a client, I always… always… recognize and respond with any interaction. Whether it's something as small as favoriting a tweet, or as big as writing an article… social media boiled down to it's very basic is about interaction. If people are interacting with you, or your company, interact back. It's that simple.
In my career, I've had the privilege of working with many prestigious companies with high visibility in our industry. I've just returned from New Orleans and the National Automobile Dealer's Association Convention in which I handled pre-show and live social media for 12 companies. NADA marks the 15th automotive industry event I've conducted social media marketing for whether it was for the conference itself or for exhibiting or sponsoring companies.
Other than the fact that I get money for doing it (which is a great thing), the most rewarding aspect of any position is to get recognized by peers and industry influencers for a job well done. I don't normally write self-promoting type stuff but I've simply been overwhelmed by the feedback I received from my work at the NADA Convention.
The funny part is that I don't really consider myself a "vendor" per-say. I mean, I get paid for my services but when dealers (or vendors) ask me the inevitable "Who are you with?", I simply reply "I'm with Arnold." I love my job and get to meet and interact with tons of intelligent, smart and successful people in our industry from the entire spectrum – dealership personnel, dealers, vendors, members of the media, etc. – and because I'm not soliciting anyone, it's always genuine face-to-face interaction.
My good friend, Kevin Frye, included me in his NADA video.
In their NADA recap article, AutoMotion featured some of my tweets intended to break up the monotonous "come to our booth" messages and introduce some entertainment into the Twitter feed. If we want dealers (or vendors for that matter) to recognize the value of Twitter, it's got to be interesting when they look at it, wouldn't you agree? (Check out hashtag #NADATips if you want to see some.)
DealerTrack's social media person (whoever you are) did a fantastic job interacting with people – including myself – at NADA with the @DealertrackDMS account.
Many local New Orleans companies also showed their social media savvy including what became one of my favorite spots – The Cat's Meow – which I visited four nights including assisting in organizing an event for VinSolutions in 4 hours that saw over 200 guests attend. The Cat's Meow was super accommodating on all of those nights as well as super interactive and responsive with their @catskaraoke Twitter account. It's not often that you  get to meet the person who is actually interacting with you from a local establishment like this but I was able to on my final night out in New Orleans. Kudos to her!
I also got the opportunity to hang out with the AutoTrader.com and Haystak Digital Marketing team there one night and, of course, had to throw some shout-outs to them to the tune of "Crazy Little Thing Called Love" by Queen on stage. [Here's a LINK to the video if you really want to hear me sing.]
The fact that many of us got stranded in New Orleans due to inclement weather presented PCG Consulting and Brian Pasch with the opportunity to provide a bonus educational opportunity to stranded NADA attendees that was given the name the "PCG Freeze Out" which I was fortunate enough to participate in.
I know I'm forgetting some people as I was fortunate to interact with a ton of people. Over the course of NADA, I was astounded by the response and stats from only my personal Twitter account @arnoldtijerina –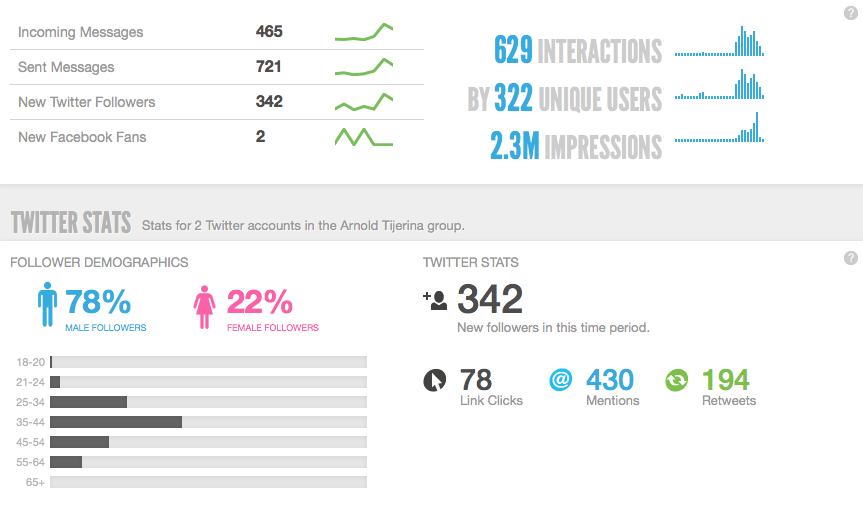 but the most humbling feedback, BY FAR, came from long-time industry expert and insider, Cliff Banks, owner of The Banks Report (which you should subscribe to), when he tweeted this:
If your co. is looking 4 help on twitter, @arnoldtijerina is your guy. Best I've seen. All quality, useful content. Interacts well.

— Cliff Banks (@Cliff_Banks) January 31, 2014
Thanks to everyone for all of their support. I truly enjoyed all of the interactions I had at the show whether they were as myself or on behalf of a client and I look forward to seeing everyone again at the next event.
P.S. And many thanks to Helion Automotive Technologies for the rocking caricature and to the NADA Convention for the $150 gift card to Mr. B's Restaurant. My wife and her friend LOVED the dinner. I was too busy.. well.. tweeting… but appreciate it just as much.