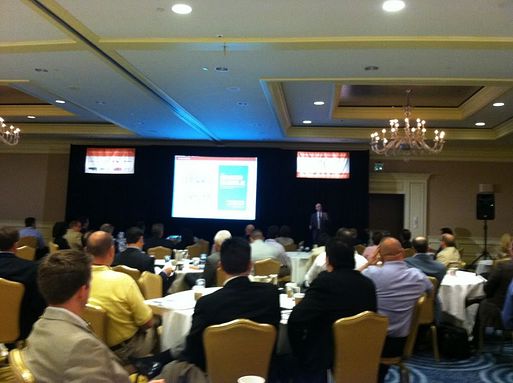 The Automotive Customer Centricity Summit, hosted by Thought Leadership Summits (ACCS) was on June 14th, 2011. I had the privilege of reporting on this event on behalf of DealerElite. This event is a one-day event that runs from 7am-7pm. The event was held at the Ritz-Carlton Hotel in Marina Del Rey, CA. While I don't have exact attendance numbers, it seemed to see about 125 attendees. There were a lot of OEM representatives from both the automotive and motorcycle world, vendors and some dealers.
Speakers included:
Thilo Koslowski, Vice President & Lead Automotive Analyst for Gartner
George Liang, President of the DCH Auto Group
Allan Jenik, Director of Dealer Services for Harley-Davidson
Jon Budd, National Manager – CRM & Integreated Marketing for Hyundai
Kal Gyimesi, Automotive Industry Lead for IBM Institute for Business Value
Brian Benstock, Vice President & General manager for Paragon Honda
Lonnie Miller, Vice President – Marketing & Industry Analysis for Polk
Sara Hasson, Vice President – Automotive Brand Solutions for Univision
Michael Sachs, General Manager – CRM & Loyalty for Volkswagen
Some of the interesting things I took away from the sessions included:
Thilo Koslowski spoke about "Understanding Automotive Trends & Creating Successful Strategies". He stated that consumers are paying more attention to automotive & transportation related spending. It's his theory that the next 10-20 years will be the most disruptive to our industry and that in the future, individual transportation may not mean vehicle ownership with younger consumers increasingly relying on alternate modes of transportation. He predicts that by 2012, the majority of OEMs will have integrated wireless connectivity into vehicles. Younger consumers are less likely (22%) to be concerned about the distracted drivers that in-vehicle data integration would undoubtedly create. He stated that as companies feel that a social media presence is more important, the social networks themselves become more important (kind of a vicious cycle) and that dealers need help from their OEMs with social media marketing because many of them are doing it, but the majority are doing it wrong. One interesting takeaway was that as data integration increases, and younger consumers continually consider alternate modes of transportation, 78% of consumers would still prefer a gasoline engine for their next vehicle than any other type including electric and hybrid.
Kal Gyimesi spoke about "Advancing Mobility – the Next Growth Engine for Attracting Consumers". He stated that within the next 5 years, 30% of revenue will come from new sources and that to achieve success, we need to transform into a service-oriented business model. He believes that the ability to interact with consumers will be centered around connected vehicles. He said that 59% of auto executives agree that auto electronics and software will be open & customized by smartphone apps and that a game-changing byproduct of the connected car may be the interchange-ability of vehicles. However, to appeal to consumers, mobility solutions must be simple, yet comprehensive.
George Liang had a controversial session about a test store within the DCH group that went to a hassle-free pricing model. He stated that within the next 2 years, Gen Y will represent 40% of dealers' business. His view is that the traditional sales process is management centric, a long process, inequitable to the guest and complex. Gen Y consumers won't put up with that. The "limited negotiation" process is faster for the guest, simple, friendly, fair and transparent. In this model, Client Advisors will be trained to desk their own deals eliminating the need for desk managers. In addition, as Client Advisors gain experience, you create a career path for them by advancing them to a "Elite Client Advisor" position and that for every 5 "Elite Client Advisors", you can replace one F&I manager. By eliminating these positions (desk manager and F&I manager), you save money on personnel costs. In their test store, he said that they immediately lost about 95% of their salesforce due to salespeople and managers being unwilling to adapt. He advises that you should expect a temporary drop in both front-end gross and market share. In fact, DCH lost 50% of their front end gross when this model was implemented in their test store. He said to stay the course, however, as everything went back up with time. He said that DCH focuses on market share because if you increase market share, everything else will come with it. Of course every sales manager and retail car guy in the room was immediately on the defensive especially after Mr. Liang shared that this test store's closest brand competitor was 45 miles away.
Allan Jenik spoke about Harley's "one-to-one" marketing approach. During his Q&A, he said that he believed that your social networks don't want to see coupons and offers. I don't agree with him there. In fact, I would argue that the exact opposite is true in that most of the people who follow you only do so for the coupons and special offers. Harley-Davidson is a different beast, in my opinion. The lifestyle and community they've been able to create is completely different from any other brand so for them, this might be a valid statement.
Jon Budd shared the importance of listening to your customers and keeping your brand on track. He highlighted Hyundai's ever adapting "Assurance" program and showed how its changes over time reflected on consumer concerns – from the initial 2009 campaign in which they offered to buy-back the vehicle (of the 435k vehicles bought under this program, only 100 were returned) to today's campaign offering Hyundai customers piece of mind by offering security in the tangible value of the Hyundai by guaranteeing future trade-in values at the time of purchase.
Brian Benstock repeated his popular session showing how Paragon Honda went from #17 to #1 in 6 months. (When I say repeated, I mean that I've seen it before.) His session was very popular. I even heard comments from dealer-attendees that wished that the summit organizers had allowed him to continue rather than hurrying him up and cutting his presentation short. I thought his comment that vehicle brochures were dead was spot-on. He says that OEMs should just stop making them. In fact, Paragon made their own to give to customers. He says most consumers who want information about a vehicle don't look at brochures anymore, they go online to find the information. He advocates OEMs to create more short-term lease options available to dealers as that would decrease the buying cycle and increase loyalty. He said that Paragon Honda has a 68% retention rate because of their efforts to get customers into short-term leases.
Michael Sachs spoke about customer loyalty. The gist being that its very important and hard work. I especially liked the story he shared about the "$100,000 salt & pepper shaker" as an illustration (anyone who knows me would understand why). This story told of young children who visited Disney World and bought, as a gift, a salt & pepper shaker for their father. They broke it before they could give it to him and went back to the in-park store to get it replaced. Due to kindness and generosity, the Disney employees replaced it for them although their policies didn't require it. Due to this, those children became "raving fans" and over the course of their lives spent over $100,000 with Disney. He stated that even the smallest of actions which make customers happy can have a huge effect on future earnings and loyalty.
Sara Hasson spoke about the importance of marketing to the Hispanic market. One interesting statistic she shared was that from 2010-2020, Hispanics are projected to account for all (100%) the growth among adults 18-49. She said that Hispanics spend at similar levels and return to the new vehicle market sooner. She said that not only is it important to market to Hispanics but its important to market to them in their language.
Originally published on DealerElite.net