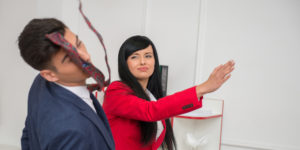 This isn't a long blog, but it's important.
I just ran across a news article (labeled under the category blog** full article below unedited) in Automotive News, that disturbed me.
The article was about how vehicle walkarounds are dead and useless. But that isn't why it disturbs me.
The "News Editor that oversees Automotive News' coverage of auto retailing," Jim Treese, has just published an article that many would agree that HE needs an editor.
Specifically, he wrote an article about vehicle walkarounds being dead because… technology.
Yup, we have enough technology available so that salespeople should no longer expected to know the vehicles they sell and that there is no way they could possibly do so….
Oh wait… he didn't say "salespeople," he said "saleswoman."
And he only said that when it was in a negative context…
"It is unrealistic to expect a Toyota saleswoman to know the ins and outs of every Prius nameplate as well as every feature and option package on every edition of the Tundra."
And
"That goes double for used cars. It is unreasonable to expect that Toyota saleswoman to know what's included on the winter package of the 2012 BMW 3 series that the dealership took in on trade for an Avalon."
Not once did the Jim Treese use the world "salesman" in the entire article, he just alternated between "saleswoman" (when it was negative) and "salespeople" (when it was neutral).
And that's the problem.
Apparently, this old guy (if he can say "women" can't know things, I can say that the "old guy" doesn't) doesn't know shit about the current state of the industry, doesn't keep up with politics and certainly doesn't express equality between men and women in the automotive industry.
On top of all of that, he may be violating The Federal Trade Commission's rules regarding endorsements… specifically 16 FPR Part 255 which says that any endorsement must be disclosed.
I don't know whether Automotive News has a connection with the company mentioned in the article, nor do I know whether the author does, but it sure is suspicious that only ONE technology company is named in this article that discusses why salespeople… cough… saleswomen… could never be expected to know either the product that they primarily represent nor the competing products that might be sold as used on dealership lots.
Screw training. Screw knowledge. Screw being able to discuss with customers the features and benefits of a vehicle…. Without a tablet or computer to help them, of course. But, it appears, he's only talking about the "saleswomen" in the industry.
Not once does the word "salesman" appear in the article. Only "saleswoman" and "salespeople." I guess it's only women that can't know details. Go figure as women are some of the most successful salespeople at any dealership. I guess they don't know shit. It's only because they are pretty, right Jim?
Perhaps James B. Treese needs someone to edit HIS articles. Probably a woman. But what do I know. He just pissed off all of the female automotive salespeople in existence. Not that Automotive News cares.
This is my editorial of your editorial.
And my opinion is that, as a representative of Automotive News, you have represented yourself as a misogynist.
Truth is in the words. Have a nice day, James B. Treese. Unless there are women around that happen to sell cars. Then you might want to lay low.
/end rant
Article: