Facebook is rolling out a new feature in which people are able to "reply" to comments on your Page's posts creating a threaded comment so that replies to other comments aren't mixed in with this big long (hopefully) chain of comments. This is great for Facebook pages with a ton of fans and is designed to help those Page administrators manage the conversations better.
To qualify, you are supposed to have a Page with over 10,000+ fans BUT, I was able to turn it on for my blog's Facebook page and it only has (at this point) 624 fans.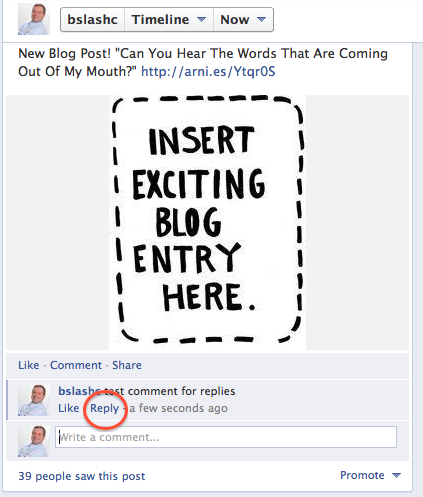 If you're a Page administrator, you may want to go into your Admin settings and see if you can turn this feature on or not. It's super helpful in encouraging comments and keeping track of who is responding to whom and managing, responding and engaging in these conversations.
This is how you do it:
Go to your Facebook Page.
Click "Admin Panel"
Click "Edit Page"
Click "Manage Permissions"
Scroll down and you will see a checkbox that says "Replies", check that box and click "Save".

If the feature is turned on, you should have "Replies" enabled. Find one of your posts and comment on your own post. If replies are enabled, an additional option to the comment will be "Reply".. Ouila! Let me know if this is working for you or if I just won some sort of Facebook lottery or they consider me a superstar and are just getting me ready for this huge influx of fans in advance. (crossing fingers).

This is what your post comments will look like if you're able to activate this feature on your Facebook page:
Or you can watch this video (or read this article) by Christian Karasiewicz that will walk you through it.