Businesses are constantly trying to generate word-of-mouth
and increase their exposure in social media via promotions. Promotions are an
effective way of increasing eyeballs and, perhaps, generating new customers, if
done right.
If done WRONG, it can actually do the opposite. What do I
mean by that?
This is how I've seen promotions being run lately and the
thought process that I suspect went along with it.
 

I want exposure or new customers

.

I'm going to hold a giveaway or contest via
Facebook.
I'm going to enlist my existing fans or customers to spread my message.
To do that, I'm going to require them to "share" my message with their social network. The more they share, the greater the likelihood that they will win.
By doing this, my message will be shared with, hopefully, a lot of people and my business will gain exposure that meets or exceeds the value of the prize(s) being awarded.
There's a couple of problems with this thought process for
both the business and the fans of that business.
First, requiring your fans to "share" on Facebook is against
their Terms of Service . To be precise, it clearly states that:
"Section 2.1:  You will not condition entry to
the promotion upon taking any other action on Facebook, for example, liking a
status update or photo, commenting on a Wall, or uploading a photo."
Second, by encouraging
your existing fans to repeatedly share your message by rewarding them to do
that, your fans run the risk of alienating members of their social network. By
alienating their "friends", they run the risk of being "unfriended" or, at the
very least, hidden. If your "fans" are hidden or "unfriended", their social
graph decreases making the sharing
of your message less effective not
to mention the detrimental effect it will have on your fans by decreasing their
reach.
You know this is true.
Think "Mafia Wars" or "Farmville". How many people have you "unfriended" or
hidden because of their continuous sharing of these social games' content? How
many dealers have you unfriended or hidden because, despite everything we say, they continue to post their inventory continuously online?
The third aspect of this
is that most businesses open their contests up to everyone, not just their
customer base. I've heard of plenty of dealership vendors and/or people who would otherwise never do business with
a company entering and winning a Facebook promotion. It's just as easy to "unlike"
a business Facebook page after the contest ends as it is to "like" it in the
first place.
The fourth problem is
that, just because your business is holding a contest or promotion on Facebook,
it doesn't exempt you from your state's laws regarding contests and promotions.
In example, California has strict laws dictating how you must run a promotion
including mandatory disclosures. Just because the winner of your contest may
not be in California doesn't exempt you from your state's laws.
Acura started a
promotion called "Compete Like A Pro last week. On their Facebook page, these
are the exact words:
"All you have to do is work your social network as hard as your
quads to earn the most votes. Spread the word on your wall, send friends an
email – do whatever it takes to let people know how serious you are about your
action sport."
Buick, on the other
hand, also has a social media promotion called "Quest for the Keys". Their promotion doesn't involve
spamming your friends anywhere. It involves participation by the contestants to
"find" keys that are hidden in various US cities. To gather clues, you (as a
participant) must pay attention to their various social network assets. Now you
have people regularly monitoring and visiting your various social networks and,
most importantly, not annoying the hell out of their friends. 
Finally, you have to
consider the message you are sending. A contest going on right now being run by
Grant Cardone is wrong on so many levels.
Let's analyze WHY.
First, it violates Facebook's Terms of Service.
Second, anyone who wants
to win is REQUIRED to spam their friends by posting on Facebook and Twitter. (I
don't have a problem with the YouTube component because, while you have to
create a creative YouTube video promoting the contest, it doesn't appear that
you are required to share it to increase your chances of winning (although I
could be wrong)). You may argue that it's not required but let's be honest here, the premise of the contest is that you score points by sharing on Facebook, Twitter and other social networks. If you don't share, you don't score points which means you can't win. This pretty much means that, to participate in the contest, and have a chance at winning, you are required to spam your friends.
Third, the contest is in
violation of promotion and contest LAWS of the State of California as, at  the very least, it doesn't contain the proper
disclosures. Now I'm not a lawyer but these laws carry not only civil
penalties, but also criminal ones.
I'm not even going to embed these videos into this post but, if you haven't seen them, here are the links:
Grant Cardone Social Media Contest – Win $10,000
Grant Cardone Social Media Contest – Win $10,000 Part II
The final, and maybe most important, is simple.
What message are you
sending to people when the "Grand Prize" is $10,000 in "store credit" OR an
iPad (Retail value approximately $500) OR $500 cash. Second prize is $5,000 in "store
credit" or $250 cash.
Maybe it's just me but
it "seems" that $10,000 of his training material just got equated to $500 cash.
I'm sure that he doesn't really "want" anyone choosing the iPad or cash, that
would be the ultimate snub. That being said, why on earth would you even plant
the SEED of that idea in your customer's minds?
Third place is… wait for
it.. a set of steak knives. Of course, if you don't want the steak knives, he
has also offered the third place winner a $100 bill with a personal message on it
that he won from his twin brother. Check it out.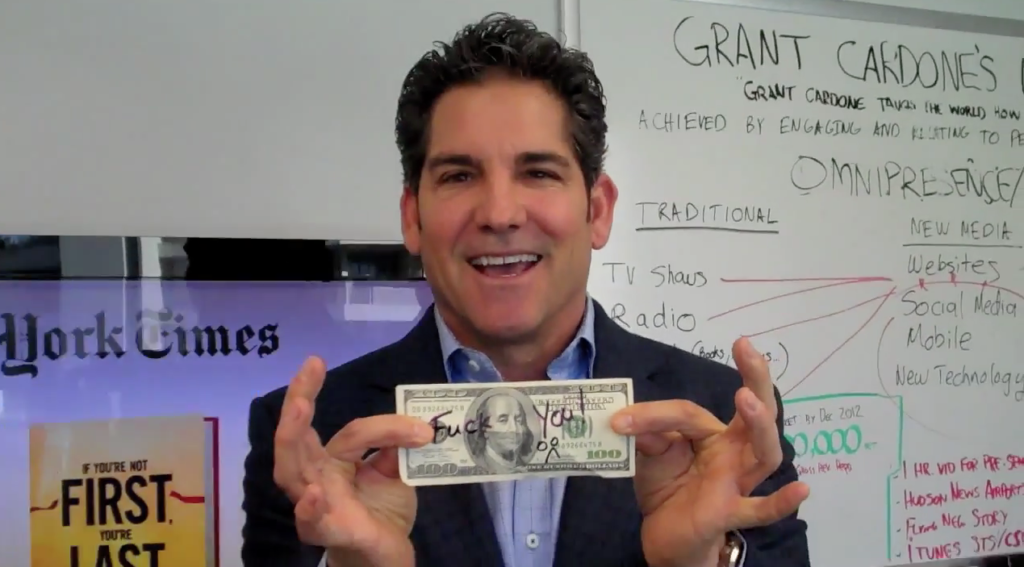 Note: Since he began the
promotion, he has since censored out the "message" written on the $100 bill within the video. Guess he thought it was a bad idea after the fact. Luckily, I preserved it.
In the second video (on
the day the promotion started), his message to his fans was the following:
".. or I will give you
this hundred with a personal message to you.. a personal 2011 message."
Well, if his personal
message to "me" (seeing as I'm a fan) is what is written on the $100 bill from
the first video, that's plain insulting. Now, I know Grant personally. I've
always supported him and sincerely like his training materials. Lately,
however, some of his messages have contained material or comments that I find
offensive. Being from the car business, I'm pretty thick-skinned and have heard
(and participated in) plenty of swear words.
I can certainly tell you
that I have NEVER sworn in front of any customer and I certainly have NEVER
delivered any message similar to the one Grant wants to "personally" deliver to one lucky "fan", who is, in fact, his customer.
If that's what you want
to tell me, I only have one thing to say… right back at you.
[Update 1/19: Day three of the contest brings another level that is the fun of getting my fans to spam their friends and, this time, it's via E-MAIL! Yes, I'm so ready to upload my contact list into your system so that I can spam everyone I know. Video here: Grant Cardone Contest – Emailing Contacts ]
Disclaimer: In this rant (yeah, it's a rant), I'm not trying to
imply that Grant's material has no value. On the contrary, I used his material
to help me sell a lot of cars and make a ton of money. I've always been a fan
of his and recommended his material to anyone that asked me. I've helped him
spread his message and assisted him personally in social media when he's asked
me to. The purpose of this rant WAS, however, to not only warn businesses of
some of the dangers inherent in running a Facebook promotion wrong, but to
call Grant out on his ridiculous contest. I'm not holding back here and I'm
sure this won't be appreciated but it's a message that people need to hear..
especially Grant Cardone. 
Of course, this is all my opinion. I'll let you decide whether you agree with me or not.