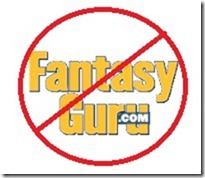 My brother is a fantasy sports freak. He especially gets into football. Every Sunday, you can find him firmly planted in front of my TV watching my Sunday Ticket subscription with his laptop in his lap cycling through his many teams refreshing his fantasy football scores. You'd think he was in the stadium sometimes as he yells (or cheers) at the television. He's also hyper-competitive.
We play in one league together and, at any point in time, he knows, off the top of his head, all the league's statistics. Who's in first place..Who has the most points..Playoff scenarios..etc. He's made 74 roster changes whereas the rest of a 12 team-league has made a combined average of 11 moves (and that's with my above-average 37 moves included). I stopped checking Yahoo for my scores and info. I just ask him now.
He's been a fan of, and subscriber to, a premium fantasy football website named FantasyGuru.com run by John Hansen who has been affiliated with major companies and personalities including hosting a radio show, SiriusXM Fantasy Sports Radio with FoxSports.com's Adam Caplan which was so popular that it became a seven-day-a-week program during the NFL season which included senior writers Matt Camp and Joe Dolan. He's participated in celebrity drafts including Ashton Kutcher, has published on ESPN.com, and has appeared on television in projects with NFL.com, NFL Network, DirecTV, ComCast SportsNet, and even a cameo on an episode of FX's The League.
This week my brother is particularly passionate as he's playing his big brother (me) in our league's playoffs. He uses the advice and statistics from this website to help him analyze players, waiver wire pickups, and to assist him in choosing his lineup each week.
He's not a social media person. That being said, he does have a Twitter account. It has only 1 follower (me) and he's tweeted only 4 times. The ONLY reason he has a Twitter account is to watch the tweets of @Fantasy_Guru to get up-to-the-minute injury reports and news.
So, in this weeks projections, one player – Donald Brown of the Indianapolis Colts – was projected to do well on a combined list of running backs and wide receivers. Long story short, the player hardly played at all and ended up with low points.
Because of his passion and the desire to win against his big brother and advance to our league's championship, he tweets this out to the Fantasy Guru twitter account:

Keep in mind that this guy (@Fantasy_Guru) has over 25,000 followers. He gets mentioned and/or tweeted to continuously. My brother is square in the middle of his demographic – hyper-competitive people passionate about fantasy football. It's hard to believe that his analysis isn't challenged or critiqued by other people via Twitter. The guy isn't always right but I don't think anyone really believes he has a crystal ball.
For whatever reason, he took exception to this particular tweet and sent this direct message in response:

My brother only followed him and has only 1 follower. @Fantasy_Guru has 25,009 followers and follows only 266 and (obviously) doesn't follow my brother. I understand that. He follows sportswriters, teams and players to get information which he then passes along to his subscribers/followers and he does it very well.
First, seeing as this person runs a BUSINESS in which he charges ~$30 per year, you'd think he'd be more careful alienating and lashing out at people. Notice that he chose to direct message my brother rather than reply publicly. This was particularly frustrating to my brother since he couldn't respond to the message since @Fantasy_Guru doesn't follow him. That's certainly not a way to treat paying customers and a poor choice on his part. My guess is he chose to direct message because by replying like that publicly would make him look bad.
Little did he realize that my brother has been a subscriber of his for 11 years and has referred many people to also subscribe to his service. While $330 in income may not mean anything to John Hansen, it is definitely a luxury to my brother. The amount of money doesn't excuse abusing your customers.
It took him about 10 seconds to destroy a loyal customer. Not a smart business decision.
Now my brother follows nobody.
Social media is a powerful medium. No matter what size your business is, customer service matters. Do you think Southwest Airlines or Ford would ever think about responding to a customer this way?? Imagine this DM coming from Southwest: "You set up a Twitter account just to complain? Go fly another airline." Not going to happen. Any employee who did that would be fired instantly. Ask Scott Monty or Christi McNeill.
As the old saying goes, "A happy customer tells 10 friends, an unhappy one tells everybody."
Now thousands of people will know that he apparently doesn't value his subscribers.
[UPDATE: Apparently Matt Camp read my article. His response was to make fun of a math mistake (which I've since edited). I guess he values his audience just as much as John Hansen does.

[UPDATE 2: I guess John Hansen got annoyed with my tweets as he's decided to block me. Can't take the heat?]