In my days with HomeNet Automotive, a new feature was released that allowed our customers to upload live video into their inventory for distribution to the third-party websites that would allow it.
Being in sales, I wanted to have a real video in which I could show potential clients the possibilities and an actual example of what one would look like so I enlisted help from a friend of mine who's a GM at a nearby dealer group to allow me to video one of his employees doing a walk-around.
After filming it, I used it here and there when showing a demo of IOL Pro, HomeNet's core inventory management software. After I left HomeNet Automotive, I promptly forgot about it.
Recently, I came across it in my YouTube video list and was ASTONISHED to see that it had almost 12,000 views in about 21 months! That's an average of 570 views per month! This is without ANY exposure or publicity whatsoever. It was not on a blog post or anywhere. I can only guess that these 12,000 people came across this video via keyword searches either within YouTube or via a Google search. I did a quick keyword search and was astonished to see that my non-distributed or promoted video ranked 2nd in Google organic search results!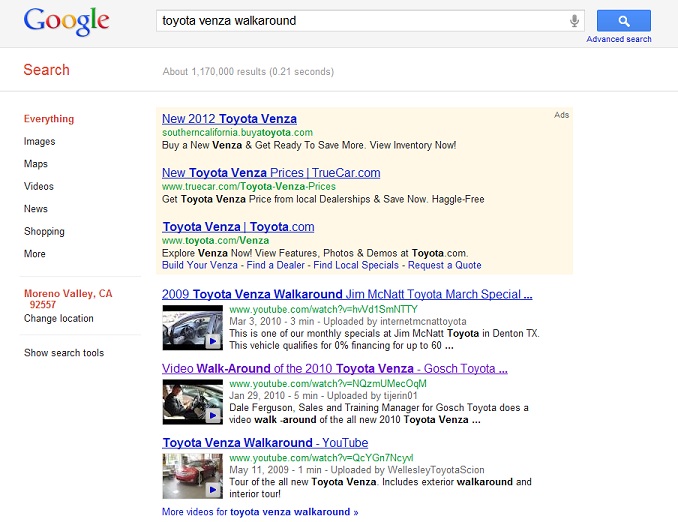 Imagine if this video had actually been a part of that dealer's actual inventory on their website as well as all the third-party sites. Given that this was a new vehicle, it could have been added to all of the listings for this model and year vehicle in their inventory. They could DOMINATE Google searches for their brands.
The proof is in the pudding. I highly doubt the people watching these videos decided randomly to watch a video walk-around of a Toyota Venza. It's more likely that these were consumer's interested in that vehicle.
This is advertising GOLD and cost them absolutely nothing.
If you want to watch it, here's the video: