A customer comes into your dealership because the warning lights come on in his Certified Pre-owned BMW after your service department tells him to bring it in immediately. He comes in and your first tier tech tells him the lights only apply to an emissions issue which doesn't apply in his state, promptly turns the warning lights off and tells the customer he's "good to go". The customer leaves and two days later, the steering fails on his car while driving 65-75 mph on the freeway causing him to crash off the side of the road. When he complains to the GM, no apology is given and he's told to bring the car back in. He expresses concern about his trust in the dealership and says he wants to go to a different one and is told that he can only bring the car there.
He then goes online and starts asking questions in a brand-enthusiast forum. After getting some information and advice from his peers, he meets with the GM at the dealership where, after expressing his concerns about the dealership's service quality, the GM asks "then you shouldn't even be in my office wasting my time". The customer then agrees to let the dealer pick up his car via flatbed to look at it but is denied a loaner car.
Someone at your corporate office sees his online forum posting and has the corporate LAWYER call the customer requesting that he remove his online posting. He refuses and takes the car to an independent mechanic where he is told that the codes indicate issues with "steering and stability control".
BMW North America gets involved. They ask the customer to bring his car into a different dealer and promise to fly in a team of specialized engineers. They confirm the steering and stability issues, charge him his $50 deductible and only fix two issues that are covered under his CPO warranty. Neither the corporate office or the dealership will explain to him what was wrong or take any responsibility and, when asked why, they say they "don't appreciate that (he's) made this a public issue on the forums."
Yes, this really happened. What a train wreck.
The dealership? BMW of North Scottsdale. (a Penske Automotive dealership)
This story made the website "Jalopnik" yesterday. The article (in which the dealer is not only named but linked to) "Did a Dealer Ignore a Faulty, Dangerous BMW?" has received 27,334 unique visitors and has 209 comments. In one day.
The original forum post has 327 comments on it in less than 30 days and has been viewed by 27,956 unique visitors.
The Jalopnik article is now in the #6 position on Google Page 1 for a search for the store's name, four spots up from their DealerRater page.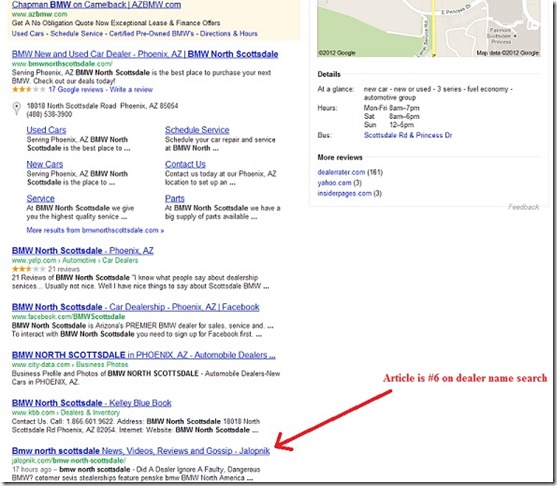 We've all experienced irate customers. We all make mistakes. There were so many opportunities for customer service to appear by so many different parties (technician, service manager, general manager, corporate office, manufacturer, the second dealership, and, of course, the corporate lawyer), yet it never did and now the dealer and BMW have a PR nightmare on their hands.
One forum poster actually said this: "Scottsdale BMW got a pretty good rating at dealer rater…shall we change that?"
What would you do if this happened at your dealership? How would you handle this?
Comments
comments