Amazon.com announced the launch today of a new store AmazonSupply.com
The site, as reported by Mashable, is "aimed at buyers in the business, industrial, scientific and commercial spaces", however, anyone can order from the site.
Being that I buy pretty much everything from Amazon (including my daughter's loft bed and, most recently, a refrigerator), I was curious as to what this was all about.
To my surprise, they are offering a wide variety of auto parts, car care items and even wheels and tires. (See the Fleet & Vehicle Maintenance category).
As you can see, they have quite a large inventory of items. Unlike Amazon's Marketplace, it's unclear whether these items are being sold by Amazon directly or through third-party sellers.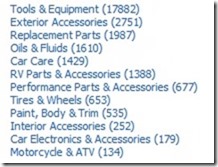 How, or will, this effect your parts business?
Amazon has typically made sure they are the lowest price in any market. With free 2-day shipping on orders over $50 and no sales tax (in most cases), I'd say they have a distinct advantage from the get-go.
How long before they try their hand at selling cars or listing dealer inventory (at a cost, I'm sure). Amazon is increasingly trying to be a consumer's one stop shop for everything. I've bought everything and anything imaginable on Amazon and have yet to find something NOT on Amazon.
Consumers may always need someone to install and service the vehicles but it just became a little easier and more attractive for them to not spend money in your parts department.
Comments
comments