I've had the privilege of handling social media for nine major automotive industry conferences in the last few years. (the 1st and 2nd DrivingSales Executive Summits, the 8th-11th Digital Dealer Conference & Expositions, and the 1st and 2nd Innovative Dealer Summits). In that time, I've also tried to include exhibitors and sponsors in the conference's social media campaigns both for their benefit and for the conference's.
I routinely asked them for Twitter accounts and created lists of those accounts for people following the conference Twitter account (like this one) whether they provided it for me or not (lots of searching Twitter, sadly). We left spots on speaking applications asking for their information and we had the sales team ask. If I had to guess, only about 15% actually provided this information and even less actually used social media to reach out and engage with attendees.
As you can imagine, there is a lot of "pre-conference" promotion (by the conference) and an essential piece of that was done via social media. Attendees would start getting excited and I would see Twitter conversations start ramping up via the conference hashtag. What I wouldn't see is vendors participating in those conversations. No matter how hard and how many times I would advise a vendor that they should, they just wouldn't do it. So for the few months leading up to the conference, there would be plenty of conference-related chatter ("Are you going?" "I'm excited" "Let's get together", etc) but virtually no vendor engagement. Amusingly enough, I have even had dealership attendees on Twitter publicly noticing and inquiring about the lack of vendors.
About a week before the conference…. it hits. Like someone hit a "Go" button somewhere. Vendors galore. All over Twitter. It was great that they would finally start participating but the problem was that there was no engagement and they were late to the party. A typical vendor's tweet would read something like "We have your magic solution! Come visit us at booth #1234" or "We're giving away an iPad2! Come to booth #1234 to enter". By this point, they are entering (and creating) noise. The dealers and managers attending see this. They know that there is virtually no value in those tweets. They've received the countless pre-conference e-mails from vendors promoting something or other all with the same basic call-to-action of "come to our booth".
On the flip side of this, I see vendors who DO engage with attendees. I see the vendors that engage attendees successfully setting up demo appointments and building interest and rapport with attendees. On the conference side, I always tried to increase their exposure (and the conference's) by re-tweeting those vendors and encouraging people to interact with them. I rewarded exhibitors and sponsors for contributing to, and participating in, the conversation. What I didn't retweet was blatant sales-only type tweets.
Fact: The 11th Digital Dealer Conference & Exposition hashtag saw 9,100 tweets from over 1,400 unique people with a combined reach of almost 100,000 people that generated over 9 million impressions…. and this was only from people that tweeted with the hashtag!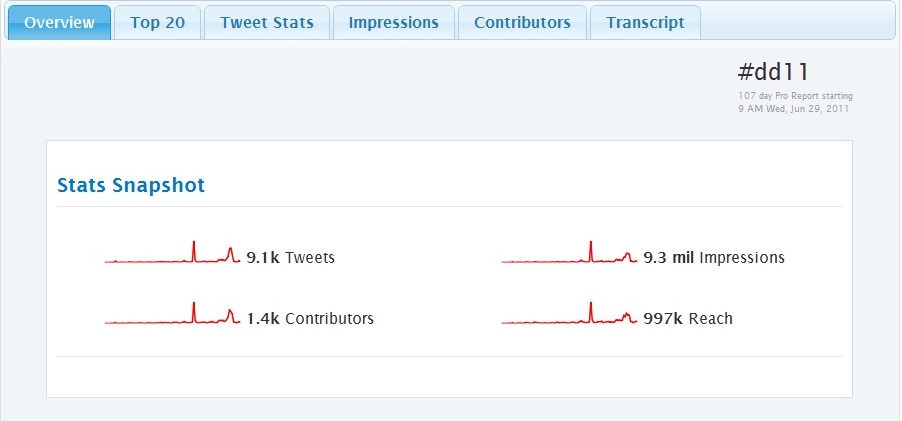 Why a vendor would want to skip out of being included in this is beyond me. I think they don't understand social media 101 – the whole point of social media is not only to engage with your primary audience, it's also to reach THEIR social network. The only other reason I can think of that they're not doing this is that they can't be bothered or see no value in it.
Vendors need to realize that conference attendees paying attention to the conference hashtag don't want to see your 140 character sales pitch a week before the conference while, at the same time, they are receiving all the direct mail pieces and e-mail marketing campaigns that are hitting their real (and virtual) in-boxes. You become noise. Spam.
They are willing and want to engage with you but you must start this engagement MONTHS before the conference and it must be REAL engagement.You want to get a dealer's attention pre-conference? Start talking to them pre-conference, not selling to them.
Sell to them at your booth, not on Twitter.